TESTING MACHINE & OTHERS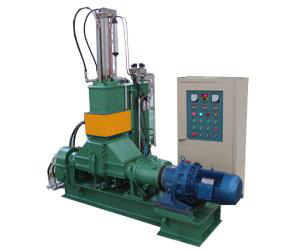 Product Name:Testing Banbury Kneader
Product Properties:1. Mixing chamber adopts jacket structure water cooling system, inner wall coated with hard chromium, rotor ridge & edge welded with hard alloy, other parts that contacting the mixing materials coated hard chromium. 2. Tilting mechanism is arc turbine and worm gear, with high carrying capacity and long service life. 3. Reducer is hardened tooth surface gear and the gear is high quality steel alloy with nitriding treatment & thin oil lubrication.
Product Application:This lab test kneader is suitable for stirring, kneading and dispersion of all kinds of chemical raw materials, such as plastic, rubber, synthetic rubber, hot melt adhesive and so on.
Description:Kneader mainly including: Kneading Part, Machine Base, Hydraulic System, Drive System & Electrical Control System
Views:
I. Name:
Testing Kneader, Lab Test Kneader, Testing Banbury Mixer, Experimental Kneader, Banbury Kneader.
II. Application:
This lab test kneader is suitable for stirring, kneading and dispersion of all kinds of chemical raw materials, such as plastic, rubber, synthetic rubber, hot melt adhesive and so on, to provide the formula standard for the production line. This testing kneader is equipped with PLC control interface, temperature control module, and conduction oil heating & cooling system. The advantage is easy to operate, fast heating and cooling. With this kneader, you can do many different experiments of all kinds of material conveniently.
III. Structure:
Kneader mainly including: Kneading Part, Machine Base, Hydraulic System, Drive System & Electrical Control System.
IV. Technical Parameter:
· Mixing Capacity: 3L
· Rotor speed(front/back): 40/31r/m(Non-adjustable)
· Cylinder diameter of top peg: 80mm
· Compressed air pressure: 0.5~0.8MPa
· Heating power: 10KW
· Heating mode: Oil / Electric
· Temperature: Room temp. - 300°C
· High temp. oil pump: 0.75KW-350°C, Wheel coupled (Lift:20m, Flow:3/H)
· W type mixing chamber: 138*200mm high-carbon steel
· Mixing rotor: 137*200mm high-carbon steel
· Power of main motor: 5.5 KW
· Rotate speed of motor: 1440rpm
· Tilting angle of mixing chamber: 110°
· Power of tilting motor: 0.75 KW
· Dimension: L x W x H 1320*750*2200mm
· Weight: 1200Kg
V. Models:
1L, 2L, 3L, 5L.