WASTE TYRE RECYCLING MACHINE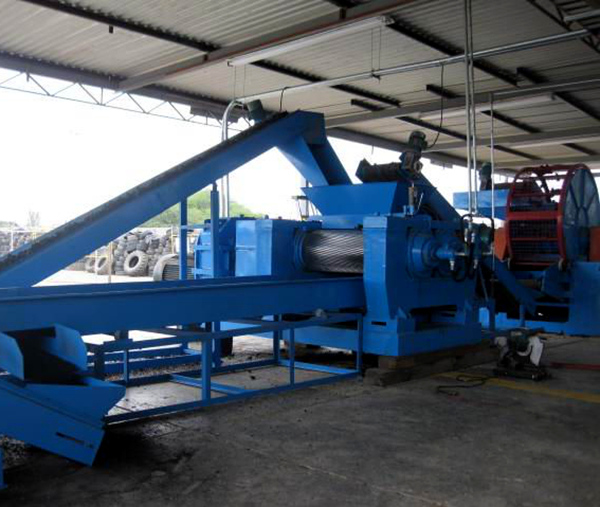 I. Name:
Two Roll Rubber Crusher, Rubber Shredder, Rubber Cracker.
II. Application:
Two Roll Rubber Shredder is used to crush rubber block into 20-30 mesh rubber powder.
III. Structure:
Roller, Bearing, Transmission System, Temperature Adjusting Device, Emergency Stop System, Base, Frame and so on.
IV. Features:
1. Grooved & Smooth Roller: Chilled casting iron alloy.
2. Emergency brake device: Manual and automatic.
3. Durable transmission system: Hardened tooth surface gear reducer and durable motor.
4. Easy assembly and operation.
5. Two Years Warranty, Provide necessary spare parts to ensure that the machine can work well for more than 6 years.
6. After-sale service is supported including online training, technical assistance, installation, commissioning, annual maintenance and so on.
V. Technical Parameter:
| | | | |
| --- | --- | --- | --- |
| Parameter \ Model | XKP-400 | XKP-450 | XKP-560 |
| Front roller diameter (MM) | 400 | 450 | 560 |
| Back roller diameter (MM) | 400 | 450 | 510 |
| Roller length (MM) | 600 | 650 | 800 |
| Front roller surface speed (m/min) | 17.32 | 23.2 | 25.56 |
| Friction ratio | 1:1.38 | 1:1.38 | 1:1.3 |
| Max. nip | 8 | 8 | 15 |
| Feeding capacity (KG/H) | 200-300 | 600-800 | 1500 |
| Motor power (KW) | 45 | 55 | 75 |
| Measurement (MM) | 3950x1800x1780 | 4770x1846x1835 | 5064x2284x1978 |
| Weight (KG) | 7000 | 12000 | 19000 |