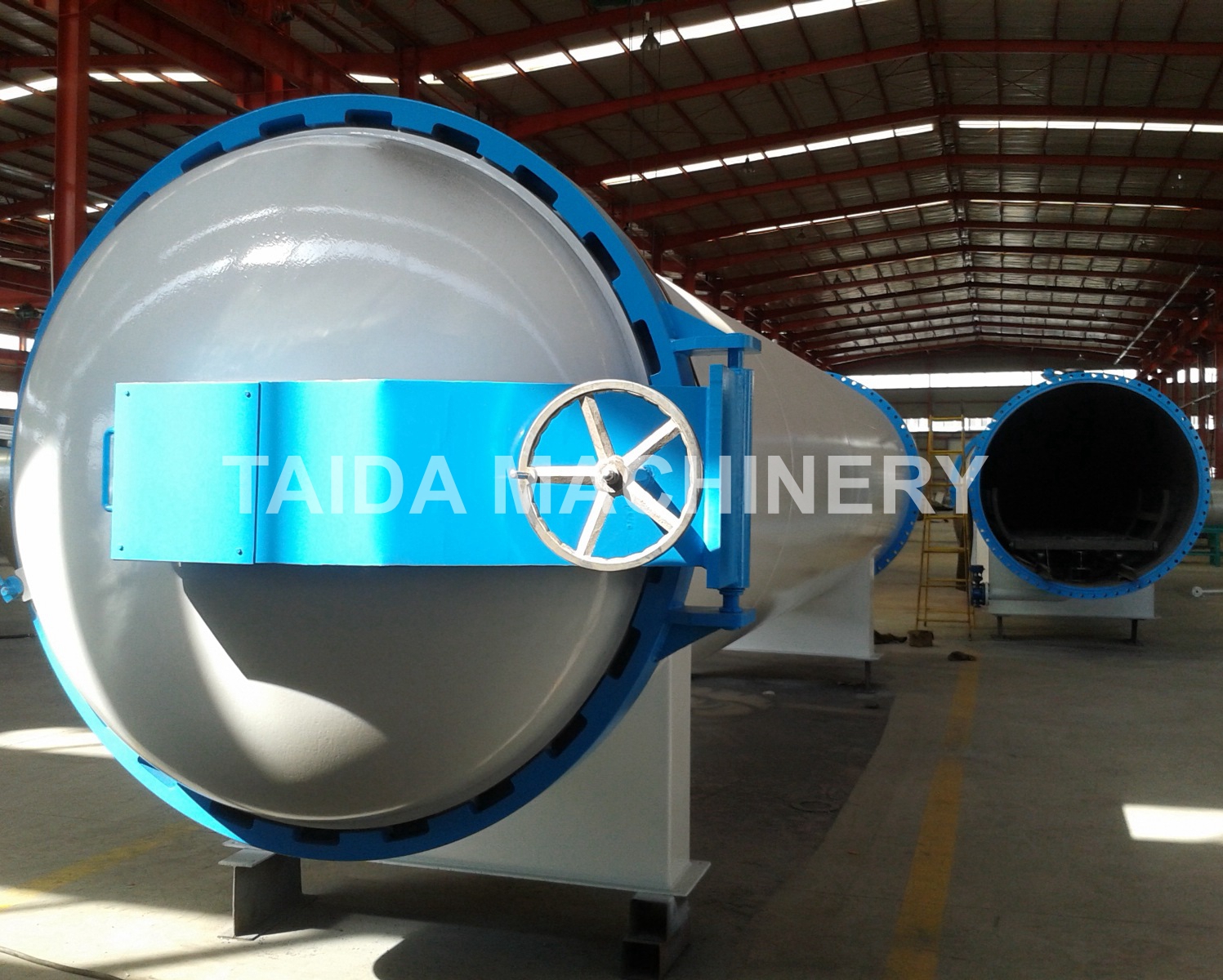 AUTOCLAVE 1500x6000mm
Techical Parameter:
Parameter \ Model

Direct & Indirect Steam Autoclave 1500x6000MM

Design Temperature (℃)

200

Design Pressure (Mpa)

1.0 (150PSI)

Tank Inner Diameter (MM)

1500

Working Length (MM)

6000

Total Cubic Meter (M3)

10

Steel Quality & Thickness

Q345R, 10mm Thickness.

Heating Way

Steam & Indirect Steam - Both

Autoclave Lifetime

≥10 Years

Door Opening

Hydraulic & Manual Fast Opening - Both

Fan Power (KW)

7.5

Sealing Structure

Inflatable Fluoro Rubber Seal

Circulating Way

Circulated Hot Air (Indirect Steam Autoclave)

External Heat Preservation

Built-in 100mm thickness aluminum silicate insulation, Reinforcing

galvanized plate/sheet protection.

Safety Way

Door: Double Safety Interlocking

Tank Body: Triple Safety Interlocking

Steam Pipe Coil

Seamless Steel Pipe

Steam Diffusion Pipe

Stainless Steel

Air Duct Plate

2 Units (Left & Right), Stainless Steel

Alarming Way

Automatic Alarming For Over-pressure

Automatic Pressure Relieving

Automatic Alarming For Over-temperature, Power-Off Protection

Temperature Tolerance

+1-2℃

Pressure Tolerance

+0.01Mpa

Control System

Siemens PLC, 13" Computer Touch Screen

Automatic Control Select Direct Steam Vulcanization

Automatic Control Select Indirect Steam Vulcanization

Automatic Control Select Both Direct & Indirect Steam Vulcanization

Automatic Control Of Paragraphed Temperature & Pressure

Adopt UPS Constant Supply Power To Help Store Process Flow, Data,

Curve And So On When The Power Is Cut-Off.

Autoclave PLC Screen Can Connect Data Synchronization With

Monitoring Room.

Auxiliary Equipment That

Customers Should Provide

By Themselves

Boiler

Air Compressor

Air Extractor Piping Device
Features:
Direct & Indirect Steam Autoclave Structure: Tank body, Rails, Safety valve, Pressure gauge, Thermometer, Temperature sensor, Pressure sensor, Safety interlocks, Heat preservation system, Steam diffusion tube, Steam pipe coil, High pressure & temperature water-proof fan, Air extractor, Hydraulic & manual door opening system.
PLC Control: Automatic control of temperature, pressure, time; High-temperature alarming power-off protection; Constant display, store and transmit the data of pressure & temperature into computer; Can switch pages in English conveniently; Temperature, pressure curve can be printed.
External Heat Preservation: Built-in 100mm Insulation Cotton(aluminum silicate insulation), Reinforced & fastened by cold-rolled plate, Ensure good thermal insulation, Lower power consumption & cost.
Highlights:
1. Adopt Siemens PLC control system to control the temperature, pressure and time automatically. It is low energy consumption, high efficiency and environmental protection. It has the function of automatic heating, automatic heat preservation, automatic pressure maintaining, automatic pressure relief, automatic control of working time. It can change the process of working time, pressure and temperature conveniently and store the process data easily.
2. Temperature control system is automatically functioned through temperature sensor, which collect data to the PLC control box. The panel shows the tank temperature data in real-time. Operating temperature can be independently set according to the product desired temperature. When working at a temperature below the setting level, the heating valves automatically open. While the temperature reach the setting value, the heating valves automatically shut down. In this way, it can ensure the accuracy and stability of the temperature of the tank. It has 10 sets of working process and each process can set 8 segments of temperature rise and preservation. Additionally, it can set over-temperature alarming power-off protection to avoid any accident and loss. In every temperature rising segment, it adopts extra 5-10℃ temperature overshoot protection and alarming device.
3. Pressure control system adopts pressure sensor to collect data to PLC control box, which can keep the constant pressure in the tank. After setting up the working process, it is controlled by automatic valve to carry out automatic pressure reinforcing and relief. Equipped with 2 sets flange open safety valve, after reaching the maximum working pressure, it will automatically open to ensure safety. With over-pressure automatic alarming device.
4. Time control: It can set 6-10pcs of temperature rising and preservation segments. Every segment can set the time 0-999min. When the curing is finished, it will stop automatically with sound and light alarm.
5. Heating and circulating system: A. Direct steam heating system - Steam inlets are at the bottom of tank body, controlled by Pneumatic Angle Seat Valve. Steam diffusion pipes are vertical arranged at tank bottom, with 4MM & 5MM & 6MM steam holes densely arranged according to reasonable angle of inclination and regulation, to ensure the steam spread uniformly. B. Indirect steam heating system - Specially designed steam pipe coils cooling fins are good dissipation and durable. Steam are going into cooling fins through 2 units of automatic valves. Cooling fins are arranged at the left & right of tank body according to certain rules. Through specially designed temperature circulating plate, the high-temperature fan can spread the thermal circulated uniformly. With the constant circulated thermal, it can have uniform temperature field and high efficiency for heat transmission.
6. The door adopts flange inflatable fluoro rubber seal and both hydraulic driving & manual fast opening system. When working, the flange inflatable fluoro rubber seal start automatically with excellent sealing effect. The door is double interlocking safety, Automatic pressure safety interlocks and Manual safety interlocks, to ensure that the door can only be opened when the tank is no pressure.
7. Seven systems safety protection device: Ultrahigh pressure automatic alarm, automatic pressure relief valve, safety valve, manual relief valve, automatic pressure safety interlock, manual safety interlock, high-temperature automatic power-off protection. We are the leader and best safety system in China.
8. Advantages: First Class Safety, Uniform Temperature, Good Sealing Effect For Door, Door Opening With Both Hydraulic & Manual Type Safely And Conveniently.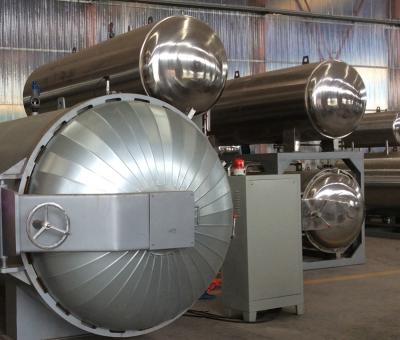 Product Name:Autoclave / Vulcanizing Tank
Description:Steam autoclave structure: Tank body, tank inner tracks, safety valve, pressure gauge, thermometer, hygrometer, vapor diffusion tube, safety interlocks, hand wheels, cranks, pipes, valves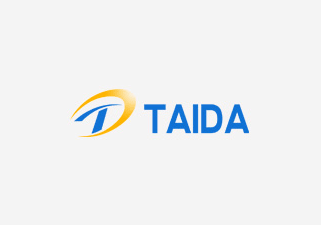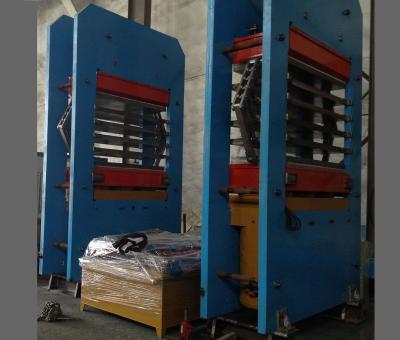 Product Name:EVA Foaming Vulcanizing Machine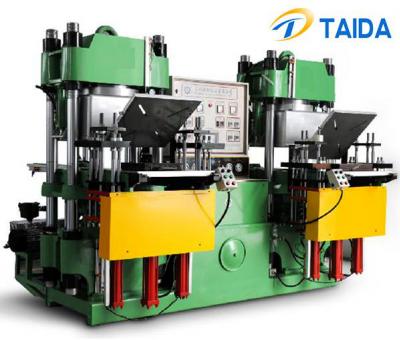 Product Name:Rubber Vulcanizing Machine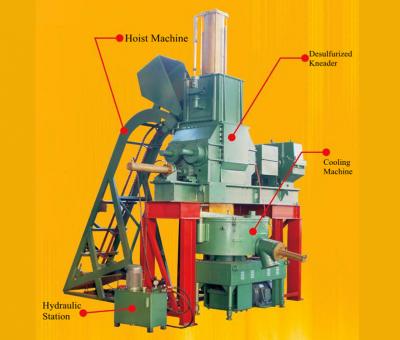 Product Name:Reclaimed Rubber Devulcanizing Kneader